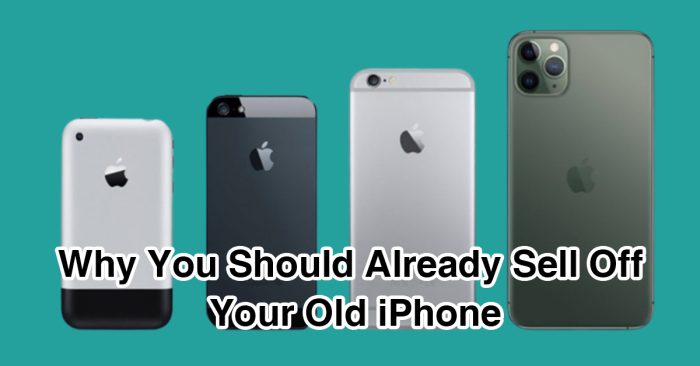 3 Top Reasons Why You Should Already Sell Off Your Old iPhone
Do you have an old iPhone that you have been using since the beginning of the time?
Well, there's no harm in using an old device, but ask yourself, is it performing satisfactorily?
Many iPhone devices lose one capability or the other after three to four years of usage. And if you have been using the same iPhone for more than four years, this may be the time for you to say goodbye to it.
And if you are wondering, "why exactly?", this post has three reasons for the same.
1. Battery Gives Up
One of the primary reasons why you should start considering selling off your super old iPhone is the battery life. As time passes, iPhone devices lose their battery's health dramatically. And as a result, their users generally have a tough time passing even three hours without the charger or a charging socket.
And then they may as well invest in power bank chargers. The idea is surely great, but not the most convenient.
If you sold off your old iPhone and bought a new device, you wouldn't have to deal with such problems.
2. Device Performance
All of the latest iPhone models and even those that come out three to four years ago may show off some good performance to their users.
However, when an iPhone that came out back in the year 2013 or 2014 is being put to everyday use, it can surely start troubling the nerves out of the user.
For example, if your iPhone has a RAM of size 1 GB, in 2020, you are probably wasting a lot of your time waiting for the apps to load, and the screens to successfully swipe.
Also, note that delaying the sale of your oldie iPhone at this time may leave you dry of any buyers in the future.
Save yourself from being a victim to this problem.
3. You May Not Get a Good Price Later
Another major reason why you should sell off your old iPhone is that you may not get a good price for this device later.
Think about it. Your iPhone is already old. Its data cable might have cracked up. Or its performance might have dropped down dramatically. Clearly, delaying the sale of your old iPhone is only going to be a lossy deal.
If you don't want to bear such losses, just start looking for a buyer for your old iPhone.
You can also get in touch with a smartphone buying portal. These websites are certified and buy used smartphones, paying a reasonable price for the phone and its condition.
So, whether you are planning to sell your iPhone 6 Plus or an old iPhone 4s, on such sites, you can do it all.
Final words
If you have been using an old iPhone for a long time and still aren't sure whether you should sell it off, the reasons above could have helped you decide.
Hopefully, you enjoyed reading this post and found it useful.