The Advantages of Selling Speakers Online
In the digital age, the option to sell speakers online, particularly for cash, has revolutionized the way we upgrade our electronics while decluttering our spaces. But with numerous platforms available, how do you decide where to sell speakers? Let's explore why Gizmogo.com is the best place to sell speakers online.
Simplifying the Process of Selling Speakers
The allure of selling speakers for cash online lies in the simplicity and value it offers. Gizmogo.com offers a seamless experience, enabling users to effortlessly sell speakers for cash. This process begins with selecting the brand of your speaker, its type, and the precise model.
Extensive Range of Accepted Speaker Equipment
What sets Gizmogo apart is its extensive range of accepted speaker equipment. Whether you have portable bookshelves, iPod/iPhone docks, outdoor, wireless, floor-standing, PA systems, home theaters, or computer speakers, they've got you covered. Here's how to sell speakers online with ease.
Welcoming Top Speaker Brands
Gizmogo warmly welcomes top brands like:
This inclusivity ensures you can sell speakers online from trusted manufacturers without hassle.
Easily Locate Your Speaker Model
Not sure if your speaker's model is in Gizmogo's database? 
No worries. Utilize the intuitive search bar or reach out to the dedicated customer service team to assist in locating your speaker model.
The Simple Process of Selling Speakers for Cash
Now that you've chosen Gizmogo as your platform for selling speakers, let's break down the process step by step to make it crystal clear.
Step 1 – Initiate the Selling Process
To begin selling speakers for cash, complete the checkout process on Gizmogo's website. This step secures your free USPS shipping label and provides you with detailed packing guidelines, ensuring a hassle-free transaction.
Step 2 – Carefully Package and Dispatch
After completing the checkout, carefully package your speakers. You can dispatch them through your regular mail carrier or conveniently drop them off at the nearest post office. Gizmogo prioritizes convenience at every step.
Step 3 – Comprehensive Inspection
Once Gizmogo receives your electronics, their expert technicians embark on a thorough evaluation process. They ensure that the product you've sent matches the description provided during the initial selection process, guaranteeing fairness and accuracy in the valuation of your equipment.
Step 4 – Prompt Cash Payment
The beauty of selling speakers for cash with Gizmogo lies in their efficiency. If all conditions align, you can expect your cash payment via check or PayPal within 1 to 2 working days. This prompt payment ensures that you can quickly utilize the funds as you see fit.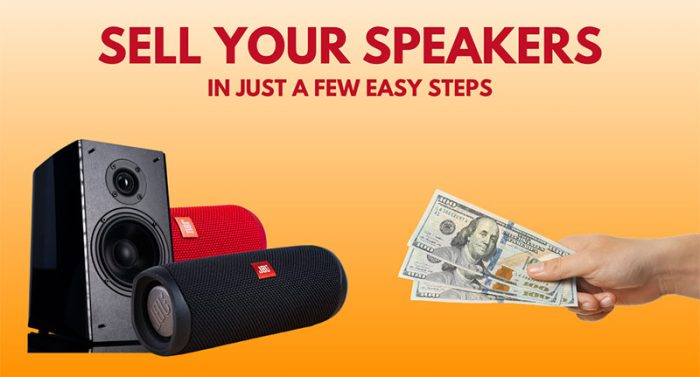 Gizmogo – The Best Place to Sell Speakers Online
Now that you understand the intricacies of selling speakers online with Gizmogo let's delve deeper into why this platform is the best place to sell speakers online.
Fair Valuation for Your Speakers
Many individuals may wonder why they should opt for Gizmogo over other avenues. One of the key reasons is the fair valuation of your speakers. Unlike physical stores that may undervalue your equipment, Gizmogo ensures that you receive the best possible value for your product.
Transparent Transaction with No Hidden Costs
Some online platforms may burden you with unexpected shipping costs or hidden fees. Moreover, if you have a change of heart and wish to retrieve your speakers, these platforms might charge you again for return shipping. Gizmogo eliminates these hidden costs, providing a transparent and straightforward selling experience.
Embracing the Upgrade Culture
One of Gizmogo's standout features is its emphasis on upgrading. If your speakers may not be performing at their peak, but they still work, Gizmogo encourages you to sell them for cash and put that money towards something better. This philosophy ensures that you're not just selling your speakers; you're taking a step toward upgrading your audio equipment for a superior sound experience.
In conclusion, selling speakers for cash online with Gizmogo offers a convenient, transparent, and financially rewarding experience. The platform's commitment to fairness, efficiency, and customer convenience makes it the ideal choice for anyone looking to declutter their space, receive top value for their speakers, and embark on an exciting journey of upgrading their sound equipment. So why wait? Choose Gizmogo today to unlock the full potential of your speaker-selling experience. Discover where to sell speakers for cash and upgrade your audio gear effortlessly.